WORKSHOP
Alley Cat hosts a popular and fully equipped workshop in-store at our location in the middle of the city centre of Maastricht.
We aim to provide the highest quality not just with our specialty coffees and homemade pastries, but also with our workshop. Rather than cutting corners, we believe in giving your bike the attention it deserves and ensure it leaves our hands in the best possible condition. Our business model is aimed at building personal relationships and introducing customers to unique and quality products. We have the knowledge and the tools to take on anything from a flat tyre to a full rebuild. Whatever the problem is, we're going to help you out.
A number of experienced professional mechanics are on site most of the time during our opening hours. No booking required, just pop in – we generally aim for same day service (bikes brought in by midday are usually ready by the end of the day), or if you need anything specific – we'd be more than happy to help and book you in.
PRICE LIST

Please note, these prices do not include parts and are listed only as a guide, costs will be confirmed on an individual basis.

Our minimum hourly labour charge is € 54,

Our minimum non-mechanic labour charge is € 9,- (such as fitting grips, pedals, bottle cages, locks, lights etc).

BASIC MECHANIC FITTING €15,-
Bar Tape Fitting (materials not included)
Cutting Bars to size (materials not included)
Fitting of racks, mudguards & baskets

SERVICE PACKAGE 1 – €49,-
Frame and Forks checked for damage
Headset and steering bolts checked and adjusted
Bottom bracket and crankset checked and externally adjusted
Hubs checked and externally adjusted
Wheel true checked (not including truing)
Brakes checked and adjusted
Gears checked and adjusted
Drive greased if necessary
Tyres – checked for wear, pumped to correct pressure
Safety check of all fittings

SERVICE PACKAGE 2 – €69,-
As above but including: Full removal of drive components (chain, crankset, mechs, sprocket) cleaned, refitted and greased

FIXED DRIVE CLEAN – € 20,-
Chain, crank and sprocket removed, solvent cleaned, refitted and re-greased

GENERAL MAINTENANCE
Puncture Repair (including tube) from €17,50
Cable brake adjustment (including cable fitting) from € 15,- per brake
Brake service Front and Rear from € 25,-
Gear adjustment (including cable fitting) from € 15,-
Wheel true from € 17,50
Spoke replacement and wheel true from € 17,50 + materials
Fitting of accessories (pannier/basket etc.) from € 9,-

FITTING AND INSTALLATION
Headset (inc. crown racer) from € 25,-
Headset tightening from € 9,-
Bottom Bracket re-grease/replacement from € 25,-
Crankset from € 15,-
Chain from € 9,-
Sprocket/Freewheel (including chain tensioning adjustment) from € 15,-
Drive replacement (chain, crankset, sprocket – not including materials) from € 25,-

WHEEL BUILDING
Wheel build labour per wheel from € 25,-
Recover old rim/hub from previous build (subject to quality) € 15,-

HUB SERVICING
Replace cartridge bearings (per hub) € 18,- (not including parts)
Service open bearing hub (per hub) € 18,- (not including parts)

BIKE BUILD
Including complete frame/fork preparation from € 80,- to € 110,-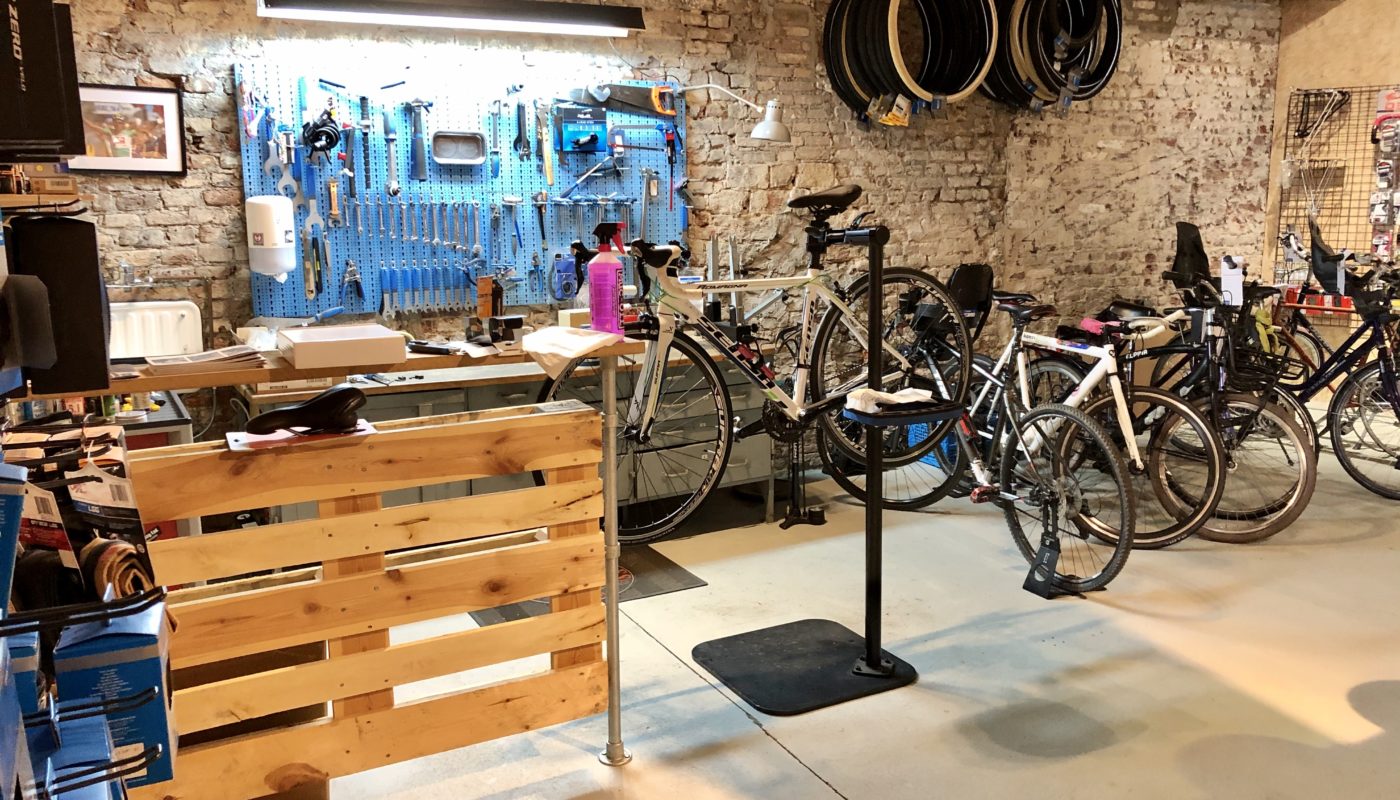 ask a mechanic